Here we go again.
For people living close to the water on Pender, Mayne and Saturna Islands, it's a recurring nightmare. The sheltered area, known as Plumper Sound, is a picturesque and ecologically rich body of water in the Southwest Corner of British Columbia.
Local residents were awakened before sunrise this morning, to the harsh sounds of metal grinding and engines roaring. The source of the disturbance is the Canada Steamship Line's bulk cargo ship, Tecumseh, which arrived at 4 a.m., noisily dropped its anchor and began offloading its huge payload of gypsum onto barges. The operation will go on for more than 12 hours.

This is the kind of heavy industrial activity normally confined to federally regulated Sea Ports.
Local residents have been trying for years to get an explanation as to why this type of heavy industrial activity is allowed in an area known for its pristine beauty that is located inside the Critical Habitat Zone for the endangered Southern Resident Killer Whales.
They recently filed an access to information request with the federal government, to find out if any formal agreements or contracts were in place that would authorize this activity. They were told that no such agreements exist. This also confirmed local suspicions that Canada Steam Ship Lines pays no fees to use the area for its operation thereby saving any costs they would be charged inside a port. Oddly there is only one anchorage site in the entire Southern Gulf Islands designated for this activity and no company other than CSL uses the anchorage in this way.

Residents can also not find any record of consultation with local First Nations or other community representatives when this practice first began back in the 1980s. Because all of this is happening outside of any federally regulated port's jurisdiction, it appears the ship owners are free to do what they want, regardless of the local impacts.
Sadly this is just one of many harmful and unwarranted commercial marine activities taking place at unregulated anchorage sites throughout BC's Southern Gulf Islands. To find out more about the situation and what you can do to help put an end it including writing a letter or giving a donation click here.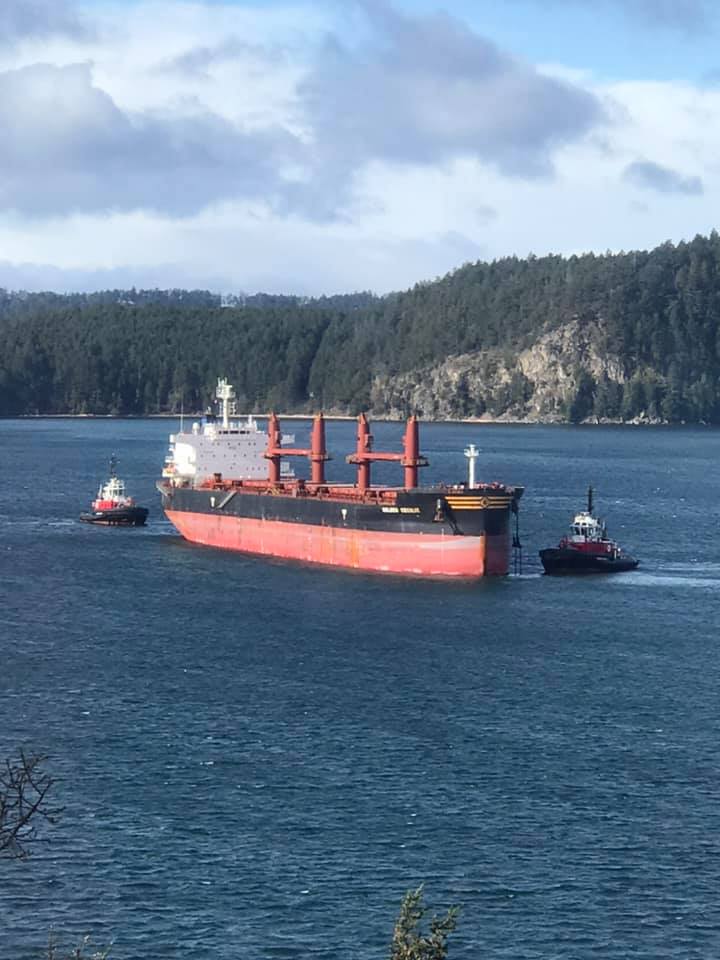 On March 30th there was a windstorm and a commercial cargo freighter dragged anchor and came very close to another. It ended with anchors of each vessel entangling. These freighters pose a huge hazard to our waters and shores.

Look closely at the photo and you can see the ships anchors tangled. The "Green K Mark 1" chain is hanging off the "Golden Cecilie". The tugs, Seaspan Osprey and Seasoan Eagle, turning the Golden Cecilie around.

Our local member in the area pointed out how this again shows the poor anchor holding properties of Plumper Sound. Of the twenty instances of something like this since 2009, 14 occurred in Plumper Sound!
This is one of the many reasons we need to urge Transport Canada to change the regulations around freighters in the Southern Gulf Islands. Take action today.