So far, over 1,300 people have sent letters from our website to the federal government asking for and end to the use of the Southern Gulf Islands as a parking lot for freighters. Many have taken the time to add their own comments to the letter we have posted. We wanted share some of the stories, perspectives and opinions, and we'll keep adding more.
"[Because of the] additional anchorage spots in the Gulf Islands, there are nights when sleeping at our house has become almost impossible. The low frequency humming from the ship's generators in certain spots floods the valley I live in and penetrates all structures. This sometimes lasts for weeks, till the ships move on.
While this is unbearable at our house, I can only imagine the impact this has on the sensitive and already stressed marine life in our waters.
As a scuba diver, I know of the sensitivity of the ocean floor in this area and I have seen the devastating damage of the anchoring." — Andreas Gedeon
"Please think about your grandchildren – even your children. Saving our oceans is critical to saving life. Ignoring this issue and letting the ocean and its creatures and viability dissolve means in years to come you will be remembered as those who did nothing, cared nothing and contributed to the destruction of the ocean.
Make no mistake, the tourist industry in BC brings in much more money that a few ill-parked freighters bringing in unknown bacteria and invasive plants as well as scraping and destroying the ocean floor and murdering the only remaining Orcas. Your kids and grandkids will thank you if you act ethically and do all that you can to help us and help save our way of life." — Dr. Sabrina Fox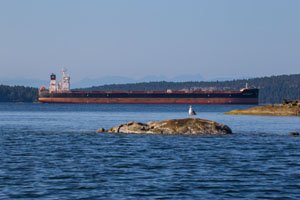 "We all get that commercial shipping is important to the Canadian economy. So are oceans. So is tourism. So are First Nations. So is the environment in this ecologically rich corner of the Salish Sea.
Allowing giant cargo ships to sit there at anchor for weeks and even months is totally inappropriate and makes no economic contribution to Canada. The air and water pollution they generate, not to mention noise and light pollution, are damaging to marine life, including fish habitats.
Please keep this industrial activity inside ports where it belongs.
I want you to know that I think the sensitive waterways in BC's southern Gulf Islands should not be used as a parking lot for freighter overflow from the port of Vancouver.
As I understand it, your government has promised, in part through your Oceans Protection Plan to, er, protect our oceans. This is a deeply important commitment and I expect you to live up to it.
Put the safety of local residents and our precious marine environment ahead of the interests of foreign ship owners.
Please take action now." — Doug Earl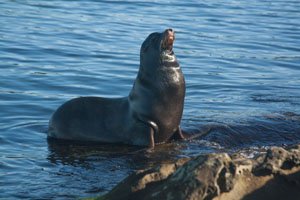 "I have personally witnessed the increased anchoring of large freighters in Pylades Channel that never used to do so over the last few years. At one point in June 2019, I could readily see 4 large freighters within our view anchored starting from off of DeCourcy Island and going south towards Galiano Island. We could readily hear generators from the freighter nearest to us in an area that is normally dead quiet at night. Lights from all of the freighters were readily observed at night where in the past there would be very little. The best analogy I can provide is that it is like someone has parked a large refrigerator trailer truck right across from your house and no one asked you, or consulted you or considered what the impact on the environment, your neighbourhood or community would be. Is this something you would like?
Also, while freighters were anchored in our view, I observed a pod of Killer Whales, a humpback whale and many sealions migrating through this area. In addition, I have personally explored the shoreline immediately adjacent to where freighters are anchored and have seen juvenile salmon, herring spawn and many invertebrates (red rock crab, sea urchins, and multiple species of starfish,) all which would directly be impacted by any accidental discharges.
As a marine biologist who has worked in BC over 39 years and who has spent much of my vacation time in the vicinity of Gabriola Island and other Strait of Georgia Gulf Islands, this is a highly sensitive and unique ecosystem, and a travesty that this activity is allowed to continue.

Please stop using these enclosed waters as an industrial parking lot for freighters and respect the unique marine ecosystems of the Gulf Islands!" –Bruce Reid, BSc, RPBio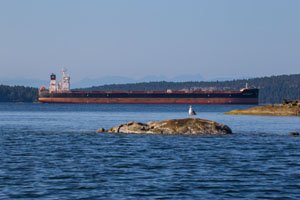 "As a Salt Spring Island resident and worker in the aquaculture industry, I have been dismayed to witness the substantial increase in parked freighters around our beautiful island over the last couple of years. Our local economy relies mainly on tourism and industries centred around our connection to the water. In my view, it is incredibly hypocritical that those of use that live and work here are very regulated and restricted as to where and what we can build on land, while just off our shores there are dirty and disruptive machines running 24/7 with very little (if any) apparent oversight or regulation." –Meghan Eggertson

"Thanks for your efforts! It is wonderful to see an organized effort to disallow freighters from using the Salish Sea as a parking lot and as a commercial gypsum unloading facility. I have no argument with ships using these waters for emergency haven during storms, but that traditional privilege is being abused.
Another unacceptable practice happening routinely in the seas between Saturna and Pender islands, is the unloading of CSL gypsum cargo ships. These bulk freighters unload gypsum obtained in Mexico onto barges that go to Washington state…using Canadian waters to unload cargo bound for the US. The operations take place mainly at night, creating noise and light pollution for BC residents, and also blowing gypsum dust across the water and land while siphoning gypsum from the freighter to the barges. These commercial operations also damage the sea bed with their large anchors. Why are polluting commercial operations allowed in BC waterways around the Southern Gulf Islands? Maybe because such operations would not be allowed in Washington state." — Leigh Field
"Now is the time – you hold the solutions – Please don't discard my request as "just another environmentalist" – if you have not been here or traveled anywhere … look around our planet – It takes only 1 person to change the course of history – this has been proven over and over!"– Gwen Spinks
"For over 15 years I have been swimming in these waters year round with a group of snorkelers known as the Salt Spring Seals. We have been written about in Hakai and Zoomer magazines and the local Driftwood newspaper. We notice regularly the changes in water quality and clarity, the reduction of sea life, the increase in invasive weeds. We see and hear these freighters. We know at first hand that your inaction is causing irreversible damage. We need you to make systemic change to this untenable practice." — Carole Eyles
"Please think ahead and act now to avoid an oil spill or other disaster that is just a matter of time." — Janet Dwyer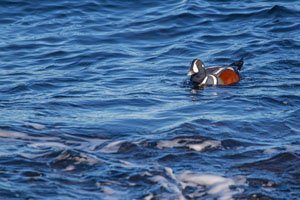 "Please, grab a big bucket of courage and legislate strong measures to control ship arrivals, dwell time and behavior while in Canadian waters; industry has proven to me that they will use up this free resource until there is none of it left." — Ted Fullerton
"The gulf islands are the jewels of the Pacific.. … I have photographed Orcas on the inside straight of Valdez island… right in the area the freighters anchor, and this is not right! .. why can they not slow down coming across the pacific until the port is ready to receive them?? Please do something." — Anita Swain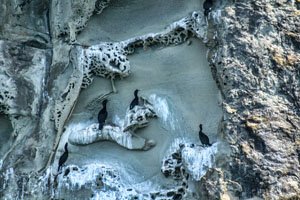 "Please end the use of sensitive waterways in British Columbia's Southern Gulf Islands as an overflow anchorage zone for the Port of Vancouver.
Yes, I understand that commercial shipping is important to the Canadian economy. But do we really have to turn every square metre of our land to industrial use, denying that there is any other better use, and degrading it for all other uses?
The southern Gulf Islands are a gem for tourism and the ecological health of an increasingly pressured Salish Sea. Bulk cargo freighters sitting at anchor in this area — for days or weeks at a time — do nothing for the local or national economy. But their dragging anchor chains, light and noise pollution, and inevitable spills have plenty of effect on these area … all negative.
Shipping companies are smart. If they cannot anchor long-term, they will adjust their supply chains to minimize the wait times, thus saving themselves time and money. What they need, and we need, is leadership from you on this matter.
You have touted your Ocean Protection Plan. Well, here's some ocean well worth protecting, in an easy, effective manner. Ban the anchoring of bulk freighters in the southern Gulf Islands!" — Greg B.
"These monster vessels, with their incessant, viscerally pounding engines and deep rattling anchor chains regularly keep me awake at night. Who benefits from this unaccounted, externalized cost, that I like many others must pay?" — concerned local resident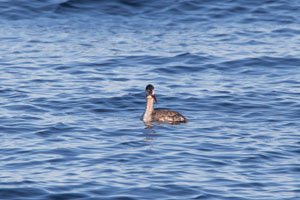 Thanks to everyone who took the time to edit a letter and to all those who have donated to the cause. If you haven't sent a letter yet, you can still do so from our website.